14 Paint Problems and How to Fix Them
There are many problems that need to be fixed before applying a finished coat of paint on any surface. These troubling places can be found on interior surfaces as well as exterior.
These need to be prepped out before proceeding so you will have a finish that will seal the surface and make it look beautiful and protected from the elements.
Blistering Paint
This happens because the paint film is lifting off the underlying surface. They look like paint bubbles or blisters. It is a pocket of fluid that gets trapped between dried paint. This happens when the surface was too hot or in direct sunlight.
Solution:
Scrape and sand down the surface then apply a high-grade primer being careful not to repeat the same hot conditions. Then reapply a high-grade latex paint as a topcoat.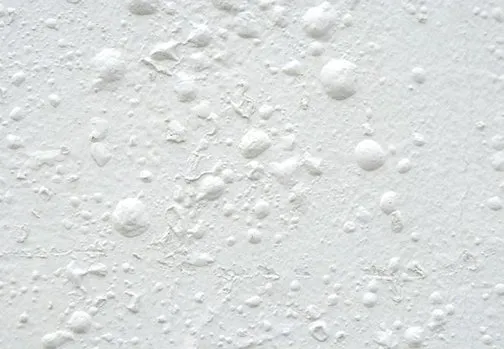 Fading of Color
This usually happens on surfaces that have southern exposure and chalking of paint film. The cause can be because a low-grade paint was used. It can also happen when painting on masonry surfaces such as stucco and concrete and results in alkali burn.
Solution:
Remove as much of the alkali as possible and then use a high-quality exterior paint.
Alligatoring
This surface looks like it has thousands of small cracks all over it. This happens when the topcoat of paint could not bond smoothly to a gloss finish.
Solution:
This surface needs to be scrapped or sanded down to the bare surface or use a chemical paint remover. Clean the surface and then apply a good quality paint primer before applying a topcoat of latex paint.
Mildew
Mildew is a fungus or mold that grows on many exterior surfaces as well as interior walls like bathrooms. This can happen if the surface was not primed before the finished coat was applied.
Solution:
Make sure it is mildew by applying a few drops of bleach to the surface. If the dark color bleaches out in a few minutes, that is a key it is mold. Fix the cause of access humidity or water.
Clean the surface with a commercially prepared mildew remover or use a homemade solution of one quart liquid chlorine bleach, three quarts warm water and 1/4 cup ammonia-free liquid dishwasher detergent. Rinse the surface and surroundings thoroughly with clean water.
Allow the surface to dry completely before painting. Use an appropriate primer and then apply a high-quality paint in the desired finish.
Peeling on Wood
Occurs when wet wood expands and contracts from moisture and temperature change, causing the paint film to loosen, crack and roll at exposed edges and fall off.
This happens because of:
Moisture or water seeping into the painted wood surface through uncaulked joints, worn-out caulking or leaks in roofs or walls.
Exterior moisture escaping through exterior walls (more likely if the paint is oil-based). Painting damp wood.
Power-washing wood and not allowing sufficient time for the wood to dry.
Inadequate surface preparation. Using a low-quality paint
Solution:
Inspect the outside of the building to identify and eliminate all sources of moisture, especially windows, trim areas, and other joints.
Repair leaks in the roof, clean out gutters and downspouts. Redirect sprinklers if necessary. Trim nearby vegetation if you suspect it may cause peeling.
If moist air is originating from inside the building, consider installing vents or exhaust fans, especially in kitchen, laundry, and bathroom areas.
If moisture is rising from the ground through the masonry, waterproof the foundation with a specially designed coating. Remove the portion of the wood that is touching the ground. Siding should come down no further than six inches above the ground.
Remove all loose paint with a scraper or wire brush, down to the bare wood if necessary.
Feather-sand rough edges for a smooth appearance and rinse thoroughly with a hose. Power-washing is recommended for larger areas (let wood dry for three to five days before priming).
Prime bare wood with the appropriate primer. Read the label to determine how long the primer should dry before applying the topcoat of paint.
Repaint with two coats of a high-quality acrylic latex paint.
Sagging
Downward "drooping" movement of the paint film immediately after application, resulting in an uneven coating.
Applying too much paint per coat. Painting under cool, humid conditions.
Over-thinning the paint. Applying paint over a glossy surface that doesn't provide sufficient "tooth" for the paint to bond. Airless spraying with the gun too close to the surface being painted.
Solution:
If the paint is still wet, immediately brush out or re-roll to even out the paint film.
If the paint has dried, sand and re-apply a new coat of paint.
Correct any unfavorable conditions: Do not thin the paint, avoid painting under cool or humid conditions, sand glossy surfaces.
Yellowing
Normal oxidation of oil-based paint or varnish, Exposure to heat from stoves, radiators, and heating ducts. Exposure of oil-based paints to household cleaners that contain ammonia. Lack of light (e.g., behind pictures or appliances, inside closets, etc.)
Solution:
Use a high-quality latex paint, which does not tend to yellow. Oil-based paints tend to yellow, particularly in areas that are protected from sunlight and/or exposed to ammoniated cleaning products.
Poor Hide
Failure of dried paint to obscure or "hide" the surface to which it is applied.
This happens because:
Over-thinning the paint or spreading it too thin. Use of low-quality tools/wrong roller cover. Use of low-quality paint.
Solution:
Apply another coat of paint (not over-thinned) at the recommended spread rate. Use quality tools and a roller cover with the correct nap if rolling.
Blocking
Blocking occurs when two freshly painted surfaces stick together when pressed against each other, such as a door sticking to the jamb or window sticking to the sill. Frequently, when one surface "breaks" free, it leaves paint from its own surface or peels paint from the opposing surface.
This Happens Because
Pressing newly painted surfaces together before they have fully dried.
Using slow-drying, oil-based paints that have been stored for long periods.
Applying another coat of paint before the first coat is completely dry Applying excessive amounts of paint on a surface.
Using a low-quality, water-based semi-gloss or gloss paint not designed to have block resistance.
Solution:
If the area has never been painted, prime the surface with a high-quality primer.
If a blocking condition already exists, scrape or sand the surface to remove all loose paint. Clean off any dust or dirt and then prime the area with a high-quality primer.
Doors and windows should be properly adjusted for free and smooth operation before painting.
Use a top quality semi-gloss or gloss acrylic latex paint. Low-quality latex paints generally have poor block resistance, especially in warm, damp conditions. Acrylic latex paints generally have better block resistance than vinyl acrylic paints or alkyd and oil-based coatings. Alkyds, however, can develop superior block resistance as the film hardens.
Tannin Staining
Tan or brownish discoloration on the paint surface. Tannins exist in many woods, most notably cedar and redwood and can bleed through to the surface, leaving a yellowish-brown stain on the surface. These stains are more noticeable on lighter paint colors.
This happens because:
Failure to adequately prime and seal the surface before painting. Using a primer that is not tannin-stain-resistant. Excess humidity or other moisture problems that can cause tannins to rise to the paint surface.
Solution:
Locate and correct any moisture sources. Remove all loose paint with a scraper or wire brush. Remove the stains with oxalic acid or an oxalic-based solution.
Rinse with a pressure washer. Allow the surface to dry thoroughly for at least 48 hours (depending on the existing weather conditions). Prime the stained area with a top-quality, stain-blocking wood primer.
If severe staining exists, apply two coats of primer. Always prime edges and ends of shingles. If possible, prime the backs of shingles prior to installation. Repaint using high-quality paint.
Note:
Tannin bleed is a surface problem, not a paint failure. Tannic acid will prolong the drying of oil-based primers and in some cases you will have to wait three to five days for the primer to fully cure before repainting. If staining occurs during the application of the new coat of paint, sand lightly and re-prime the area before applying the final finish.
In spite of all precautions, a certain amount of bleeding will probably occur within one year after the wood is first painted. It is best to wait one year before repainting. This allows the tannins to surface and weather away normally.
Surfactant Leaching
Surfactant leaching appears as blotchy, sometimes glossy, tan or brownish spots on the surface of latex paints. Surfactants are a necessary ingredient in making paint. They evaporate and are not part of the paint film; their appearance does not harm it any way. In most cases, the leaching occurs slowly and is washed away by weathering before even being noticed.
This Happens Because:
Painting in cool, humid conditions, or just before or after rain. The longer drying time caused by these conditions allows the paint's water-soluble ingredients to rise to the surface before the paint thoroughly dries.
Exposing the freshly painted surface to mist, dew, fog or other moisture.
Solution:
Do not paint if temperatures are below 50º F in the late afternoon and if cool, damp conditions are expected in the evening or overnight.
If the surfactant leaching occurs in the first few days after the paint is applied, the blotches or stains can usually be rinsed off with a strong stream of water from a garden hose.
A month of normal weathering will remove even stubborn cases of leaching. Surfactant leaching does not affect the ultimate durability of the coating.
Poor Flow and Leveling
Failure of paint to dry to a smooth film, resulting in unsightly brush and roller marks after the paint dries.
This Happens Because:
Use of low-quality paint. Use of low-quality tools/wrong roller cover. Re-brushing or re-rolling areas that are partially dried. Too much heat – usually above 90 ºF – or too little humidity, which causes rapid drying of the paint, preventing the film from flowing out properly. Use of paint not specifically made with good flow and leveling properties.
Solution:
When using a roller, be sure to use a cover with the correct nap length for the type of paint being used. Use of a high-quality brush is important – a poor brush can result in brush marks and uneven appearance.
Avoid painting under conditions that cause rapid drying of the paint.
Use a high-quality paint formulated with ingredients that enhance flow and leveling.
Poor Stain Resistance
Failure of the paint to resist absorption of dirt and stains.
This Happens Because:
Application of paint to unprimed surfaces.
Use of low-quality paints.
Solution:
Prime new surfaces before applying the topcoat.
Use a high-quality paint that contains more binder to help prevent stains from penetrating the painted surface.
Consider using paint with higher gloss or sheen in high-traffic areas.
Poor Sheen Uniformity
Shiny spots or dull spots (also known as "flashing") on a painted surface; uneven gloss.
This Happens Because:
Applying paint unevenly. Failure to prime a porous surface, or a surface with varying degrees of porosity. Over-thinning of the paint. Poor application resulting in lapping. Use of low-quality paint.
Solution:
New surfaces should be primed/sealed before applying the topcoat to ensure a uniform surface. Often another coat of paint will even out the sheen irregularities. Make sure to apply paint from "wet to dry" to prevent lapping. Use a high-quality water-based enamel paint.
Peeling on Galvanized Metal
Inadequate or improper surface preparation. Failure to use a primer before applying an oil-based or vinyl water-based paint. Failure to sand baked-on enamel finishes or glossy surfaces before painting.
Solution:
Remove all loose, peeling paint down to the bare metal.Clean the exposed metal of any contaminants, such as dirt, oil, etc., and treat them with an etching liquid. Be sure to wear long sleeves and gloves to protect your arms and hands.
Rinse the surface with clean water. Allow to dry. Apply a galvanized metal primer. Repaint with a high-quality paint.
Peeling on Galvanized Metal
** Bonus **
Concrete Stem Wall
If you ever noticed on the bottom of the exterior walls, is a small cement section called a steam wall.
On many homes, the stem wall, will have what looks like a white powder along many sections. This white powder is called efflorescence.
1.) Water infiltrates the concrete stem wall and dissolves minerals. As water evaporates from the surface of the unit the mineral deposits are left behind, thus efflorescence crystals can grow.
2.) The salt that ends up as efflorescence crystals on your walls, can come from salt-laden soils as we have in Arizona.
Solution:
Cleaning the efflorescence crystals will be the same but how long it lasts will be different.
Remove the efflorescence and all other loose material with a wire brush, power brush, or low-pressure washing, and then thoroughly rinse the surface.
Let it dry thoroughly and then apply a coat of waterproof paint to seal it up.
When that dry's, in 2-3 hours, you need to wait 24 hours, then paint over it with good latex paint as you would use on the rest of the house.
If the efflorescence crystals came from water from the outside conditions like point #1 and soaked into the concrete stem wall, then this should take care of the problem because Drylock will seal any more water from reaching the concrete.
Should the efflorescence crystals be forming from the inside or leaching up from the salt in the soil, this will be only a temporary solution like point #2.
If the crystals return down the road in a couple of years, you will then have to do this process again on just the stem wall.
It's a good thing that a stem wall is only 8-10 inches high, and so it will not take much to fix again.
Just keep some Drylock and your latex paint in well-sealed paint containers, so it will be available when you have to redo it again.
We wrote an article on how to deal with this typical problem here: Waterproof Concrete Stem Wall Before Painting
Painter Scraping, Cleaning and Painting a Special Primer Called Drylok on a Stem Wall
14 Paint Problems and How to Fix Them
Companies and Products We Recommend and Use in Our Day-to-Day Business For a Superior Paint Job.
Originally posted 2022-03-17 08:46:28.
Summary
Service Type
Repair of Old Paint Surfaces
Provider Name
AZ SRB Painting
,
16643 S. 45th St.
,
Ahwatukee
,
Arizona
-
85048
,
Telephone No.(602) 796-1432
Area
Phoenix, Chandler, Gilbert, Mesa, Scottsdale, Ahwatukee
Description
There are many problems that need to be fixed before applying a finished coat of paint on any surface. These troubling places can be found on interior surfaces as well as exterior.